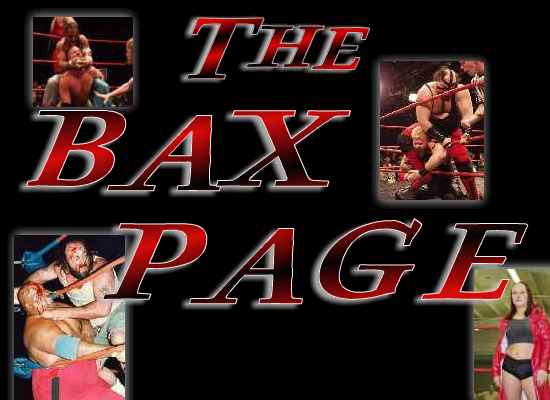 Mark the lark talks with Baxley
Read Baxley's interview with Shaffee
Greetings gang! I've waited a long time to say this.. Steve Baxley Reporting for AWWL Big Time Wrestling!! ahhh it feels soo good !
Yes friends, and I'll be doing my own gigabytes of joy here on the AWWL "website of love", but first..a bit about me.
Been a wrestling fan since the age of 3, watched wrestling from Jacksonville and fell in deep love with the action and excitement of pro wrestling, from there it was Georgia championship, SoCal Wrestling, WCCW, ECW, WCW, GWF, TNA, Memphis studio, Lucha, and of course BIG TIME WRESTLING, as well as women wrestling captured my eyes as I grew up into the strapping young seedling you see each at each and every event and TV taping as well.
And I hope you enjoy what I plan to bring to the table, sort of a cross between Larry King (from his mutual broadcasting days, not the CNN ones) with a bit of my own quirky style to bring out the more humorous side of the subject.
Trust me, its going to be fun and enlightening.
Steve Baxley
AWWL REWIND
Hi everyone and welcome to this special edition of "TBP", now a lot of you are asking what has been going on here in the land of AWWL, do we still have a champion, whats with Shaffee?? and just who is Eddie Venom??

To answer all your questions, here we go, with "THE BAX PAGE AWWL REWIND"

Ricky Stryck9 is still our AWWL world Champion, we all were at The Temple Club when he won the title from Balls Mahoney, well he continues to defend the title against all comers.

Medicine was named the interim commish of the AWWL, and the first thing he did was relieve Barone of his TV Title and begin a TV TITLE TOURNAMENT, many AWWL wrestlers came for that chance to step up and get the gold, but only one man was destined to win, Quentin Valentino took on Big Jake at our last TV Taping and WON the title to become AWWL TV CHAMP!, Big Jake was not happy with how he was being slighted by Medicine and the AWWL, but the biggest surprize was still to come....

The biggest surprize was the return of Shaffee to active duty with the AWWL. Medicine heard the fans and decided that although Shaffee was still banned from the arena shows, he wasn't banned from the studio tapings. While some welcomed Shaffee back with applause, later on it would be obvious that something wasn't right with "The Voice of Violence"

Shaffee put Stryck9 on notice that he was a marked man and that Sabu would be the one to take him on for the gold sometime down the road. Meanwhile things started to happen that just didn't add up, Big Jake was becoming more aggressive towards Gutter AND our Commish!, it wasn't until our SHOCKTOBER SURPRIZE tv taping that things would become VERY clear.

The AWWL began the surprize by introducing a new Play by Play man, Jake Walsh who would be the new voice of AWWL BTW. The biggest shock would come, as Shaffee came to the studio ring and requested Big Jake to come in for a moment. Shaffee addressed Jake's feud with Medicine and that he was no longer Big Jake...but EDDIE VENOM!!! and that all the fans were the ones who were holding him back. Shaffee then asked Meds to come in and began to mend fences...OR SO WE THOUGHT.

Just as Meds and the man now called Eddie Venom shook hands to end the feud, Shaffee shocked ALL of us when he and Venom took out our Commish. Then out came Jade and Truth Martini, together they laid out our Commish. To add insult to injury...Shaffee took out a shirt with three letters we thought we'd NEVER see again... X...W...A

The XWA returned with a vengeance, as Shaffee, Eddie Venom, Jade, Truth Martini and even our pal Paco Zimmer made it known that the XWA was here to STAY, and a voice from the past was heard from his Hell, Michigan compound... KEVIN SULLIVAN. He made his voice known and explained just what his mission was..to DESTROY the AWWL. Now with Shaffee by his side the XWA looks to be a formidable force, more powerful than ever.

Commish Medicine continues to fight for tradition, and has donned the war paint of the AWWL, his mission clear...rid the AWWL of both Shaffee and the XWA for good.

In other news, our old ring announcer Quazi, uh Alexander Cain, is back in the AWWL, and is now a manager of a tag team destined to be AWWL Champs! CK3 and N8 Matteson under the banner of A.C.E! Alexander Cain Entertprizes!, and who'da thunk our own RHONDA would be hired as Cain's press agent/secretary.

The Hollywood Hustlers, Thurston Brooks and Hot Stuff Anthony Rivera...have split! This tag team of destiny just couldn't get it together and as they say, when egos clash disaster looms, thus a dark day in tinsel town as the Hustlers hustle no more..

Guerilla Barone has now embraced his Italian roots...just ask Shaffee. When those two got together for an interview, Shaffee left a trail of brown as he left (heheheheh).

And now, as 2004 slowly sinks into the memories of all wrestling fans, we have some questions that must be answered

-Just how powerful IS the XWA under Shaffee? and could a power struggle be far behind??

-What about Sabu? is blood REALLY thicker than the green of the XWA??

-Has Shaffee bit off a bit too much when it comes to Medicine??

-Where does our champ Ricky Stryck9 stand?

-Does Alexander Cain have ANYTHING to do with the XWA?? or is he playing the fence??

-and just where IS SABU???

Stay Tuned wrestling fans, as this shocker continues to unfold. Just who CAN the AWWL trust as they meet a new force..but an old foe in the XWA, the line is drawn, now whose side are we all on ??

Next time we meet, get ready for my year end awards.

Steve Baxley