The House that The Sheik built
When Edward Farhat began his career in 1949 I can't imagine that he knew what he would become or mean to this business. I do not know if he knew that he would become so influential or such an icon all over the world.
We all knew him as The Sheik or some call him "The Original Sheik" to not confuse him with Khosrow Vaziri better known as "The Iron Sheik". In the 1920's in order to capitalize on Rudolph Valentino there were "sheiks" in the wrestling business all over. Ed broke tradition and became a bad-guy in the ring. There had been other bad guys claiming to be from the Middle East before Mr. Farhat, but he somehow managed to make a run of it that lasted from his first title run (Tag team champs in 1958) until his retirement in 1994. How could he do this? He was his character. Sure plenty of people will tell you over and over what a big heart he has. Knowing his sons personally I can see that they too share that charastic. BUT, he was so true to his character that plenty will also share that he was indeed somewhat of a wild man.
His manager told us he was from Syria. Why his manager? The Sheik never spoke. Not a peep. Other than a few words in Arabic, or growls or grunts you never heard him say a word. So it was either Eddie Creachman or Abdullah Farouk before him who did all the talking. In the ring he perfected the art of brawling, just a flat out balls to the wall fighting style that enabled him to perform what would become the "hard-core style" of today. (That's first number one boys and girls) Within this style he could do anything and often did. Rules like bones were made to be broken. The Sheik could and would resort to any measure in the ring to gain a victory. If it wasn't a steel spike in his boot, or a number two pencil, a chair it was that old standby. Fire.
In his personal life he was one of ten children born to a family of Lebanese immigrants right in Lansing Michigan. During World War two he borrowed his brothers birth certificate, because he was not old enough, and enlisted in the Army. No wonder we won that war! The Sheik was on our side. Fighting as an AMERICAN citizen.
After the war, Ed worked as a laborer in and around Detroit. There he caught the attention of a promoter named Bert Ruby who put him to work on the independent circuit under the name "Sheik of Araby" and The Sheik caught on in the Chicago area television production.
Adding his brawling style and fire and his ability to come off as a sheer lunatic The Sheik was an attraction that the wrestling business had never seen.
I have an old tape of The Sheik, it is maybe forty something years old and in it Abdullah Farouk is talking about how The Sheik is going to punish Whipper Watson. Farouk is giving a run down of everything The Sheik is going to do and in the background, dressed like a harem girl is Princess Fatima. His wife, Joyce. The Sheik is circling her and then goes over to the announcer who is interviewing Farouk and eats his tie. Seeing that as a child I wondered why someone didn't come and take that bad man away.
Cutting Edge at all times. First in his class.
In 1967 Israel and Palestine were involved in the so-called "Six Day War". Read a history book if you don't know what I'm talking about there, this is about The Sheik, so I'm giving you a small idea of what's going on. Detroit, back then much like now, has and had a huge population of Jews and Arabs. Farhat brought in Mark Lewin, a Jewish baby face who adorned his trunks with a Star of David. During the summer of 1967 I have read that a ticket to the arena was impossible to get. Week after week, match after match they sold out Cobo Hall.
Johnny Valentine used an asbestos mask after being burned several times by "The Wild Man from Syria" The Sheik. The list of men the Sheik burned was like a whose who of pro wrestling. Bruno Samartino, Pedro Morales, Dick The Bruiser, Bobo Brazil, Wild Bull Curry, Lord Layton, Mil Mascaras, Terry Funk, Dory FunkJr., Harley Race, Giant Baba, Andre The Giant, Rocky Johnson (The Rock's Dad), Freddy Blassie, John Tolos, The Mighty Igor, Chief Jay Strongbow, Firpo and Dusty Rhodes that's just a few I can think of off the top of my head.
Bobo Brazil was a giant of a man. Six foot twenty by my recollection. He was enormous and fans loved him. Adored him even. He was friendly and honest and one heck of fighter. He was also black. In 1968 he became NWA Heavyweight Champion for the Detroit territory. You may say that's not such a big deal. In 1968 Dr. King was murdered and this country's civil rights movement had just begun to pick up its momentum with the laws of this country. Three Black athletes who gave the Black Power salute were almost stripped of their medals at The Olympics. Race relations were at a volatile point. Ed decided to put the belt on Bobo. A very gutsy move considering the era.
Also in the late 60's The Sheik went to work for a while for Vince McMahon Sr and singlehandley help put wrestling for the Northwest Territory back in business. Some Sheik haters may disagree but the books don't lie.
Ed was also the first to mobilize his television units so that tapes of the shows at Cobo Arena could be rebroadcast and sold into syndication. Think on that for a second. The Sheik innovated the use of TV cameras at the arenas so that the reach of wrestling could be broader.
The use of gimmicks became a staple for the Detroit area audiences. Cage matches, shark cages, fire matches, chains, bullropes and even the first inter-gender match.
Ed was also involved in the 1st Pay-per view wrestling show when he helped book the Ali v Ionki closed circuit show.
In 1985 at The Pontiac Silverdome Hulk Hogan pinned Andre The Giant. The Wrestling world had never seen that before. Or Had they?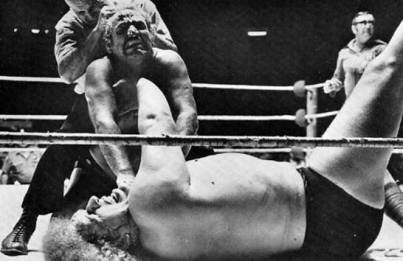 That is THE Sheik beating Andre at the Maple Leaf Gardens.
Jerry Lawler even threw fire once in a while during his matches, but the fans knew that it could only have the impact coming from the man himself. He didn't do it for very long.
Jake The Snake came to the ring with a big boa constrictor and people were amazed. It was amazing unless you lived in the Detroit area in the 60's and saw this: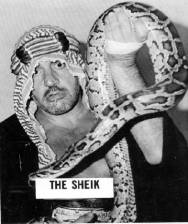 Sole owner
1964 The Sheik brought a part of the Detroit Territory. In 1968 he brought out Bert Ruby and became Sole owner. The Sheik named it WorldWide Sports and Big Time Wrestling. With an all star crew of wrestling icons like Bobo Brazil, Chief Jay Strongbow, Sailor Art Thomas, Pampero Firpo, The Mighty Igor, Bearcat Wright, Killer Tim Brooks, Mr. Wrestling, Killer Kowalski, Dick the Bruiser and many more Detroit soon became an absolute Mecca for wrestling. The Sheik made it into a family business. Once you became part of his extended family then you were in…and you did carry your weight. Joyce traveled extensively with Ed helping co-promote. Ed Junior became Captain Ed George and Tom learned everything from ring set up to advertising and business affairs. I even heard once that J.B. Psycho was actually The Sheik's gardener.
Creator of Champions
Bulldog Don Kent, Abdullah The Butcher, Kevin Sullivan, Sabu, Scott and Rick Steiner, Rob Van Dam, these are just a few of those who The Sheik trained and helped become the stars that they were and are. While his style was once looked upon as simplistic and juvenile men like Mick Foley, Tommy Dreamer, New Jack, Sandman, Raven and a whole host of other have created careers from that style.
THE Sheik's reach in this business really knows no bounds. In Japan in front of over 64,000 fans he had his retirement match. Over there he is respected and held in awe and respect for his accomplishments. It honestly burned me a bit when another wrestling company put on it's screen little images of the wrestlers that we lost in 2003 and The Sheik was no where to be found. For everything he has done for this business and for entertaining a little kid each and every Saturday afternoon I just want to say
"Thanks so much Mr. Farhat. I will never forget you"
Medicine.