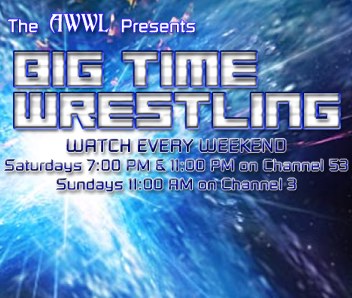 BIG TIME WRESTLING PHOTOS
Just before the main event started the XWA announced that The Alpha Male, Monty Brown had signed and joined the XWA. Monty then came out and put on an XWA T-shirt. The party was cut short however when Monty stopped smiling and started pouncing. Sabu and Balls Mahony ran out and the three dealt with the XWA, AWWL style. The match finally started but ended in a no contest after all the wrestlers fought there way to the back
In the opening bout Blackjack Phoenix took on XWA member Mr. Excitement. The match went back and forth until Excitement used a low blow on Phoenix and referee Art Menendez refused to count. Excitement got up and shoved Menendez only to get shoved back into a roll up by Phoenix. This was followed by a three count giving Blackjack the win.
Truth Martini and Curtis Martin stepped into the ring together this weekend in what looked to be a classic match. However the XWA had other ideas. The XWA rushed the ring and offered Martin a spot on the XWA roster. Martin quickly accepted only then to get laughed at and beaten by Sullivan and his XWA goon squad.
Gorilla Barone stepped into the ring with Don Crisis this week. Crisis only got two or three shots in before Barone took full advantage dominating the entire match. Barone won with a double arm choke slam.
In a six man tag team match The Great Mango, Crusher and N8 Masten took on Big Jake, Brimstone, and Alcatraz. While Mongo, Masten and Crusher were able to work very well as a team Big Jake, Alcatraz and Brimstone powered threw. A double choke slam from Brimstone and Big Jake to Mastin led to a pin fall by Alcatraz.