Insane Clown Posse Manager, Rude Boy, has signed to be in Sabu's corner at FINAL CONFLICT, November 23rd at the Delta Plex in Grand Rapids!!
Plans are under way for the Sheik's Memorial Cup to take place at Cobo Arena in Detroit sometime in mid 2004! We'll keep you posted on this phenomenal event!
The AWWL Staff has signed the Scottish tag team known as the "Hot Scots". They made their impressive AWWL debut on November 1st at the TV taping. Expect more amazing things from this HOT duo.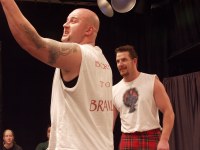 Bring in the ladies...that's right folks, we're happy to announce that we've signed some great new female wrestlers, including the beautiful Tracy Brooks. Stay tuned...