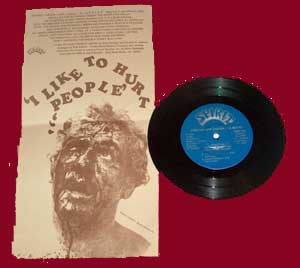 The inside sleeve and record for the Ringside soundtrack. There was a song on it called "I Like to Hurt People" and it seemed to spark the new title for the final film. (The song, however was never used.) Too bad.....Good tunes on this record..Maybe someday, I'll have them transfered to digital so we can share them. larK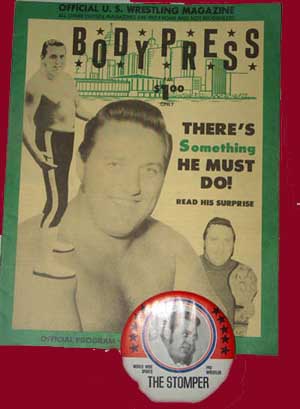 Mitchell, The Stomper, another one of my wife's faves. He and Ben Justice had many heated bouts with The Kangaroos and The Germans (Von Hess and Von Schotz) over Tag Titles. The Kangaroos broke his leg on TV, once. Later, Ben turned heel on Stomper and they had a series of matches that wowed the fans all over the globe. FYI, the Stomper went on to play the role of Jerry Valiant and with combinations of Johnny Valiant and Jimmy Valiant, headlined Madison Square Garden. Interesting that all 3 of the "Valiants" got their big break from Big Time Wrestling. They've all praised the Sheik, often, for giving them a break. After retiring from active wrestling, Guy went on to build, transport and maintain wrestling rings for many major promotions. He designed the ring for Wrestlemania III and even developed the little mobile wrestler transport rings (Powered by a folklift underneath) for the event.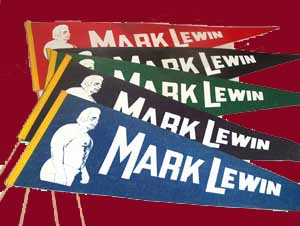 Years before the WWF started making money off merchandising, Big Time Wrestling was already doing it. They sold T-Shirts, Key Rings Buttons, photos and more..The felt pennants sold for 75 cents and they had all the stars available on them. I used to drive my 67 VW Beetle to work everyday with a Bobo Brazil pennant hanging off the antenna....These are my wife's. Can you tell she was a Mark Lewin fan? Most of us were. He was one of the most over faces that Detroit fans had every embraced. He could wrestle and brawl. Mark had the best sleeper hold in the business. Lewin's Jewish heritage made his vendettas with the Sheik a natural for many sellouts. They even sold out Toledo Sports Arena which I only recall happening once.