The All World Wrestling League celebrates the history of

Big Time Wrestling


Through the memories and snapshots of people that were
there for the glory days of the Detroit Kayfabe era.
Special thanks go to Mark The Lark for sharing some of
his collection and memories with us.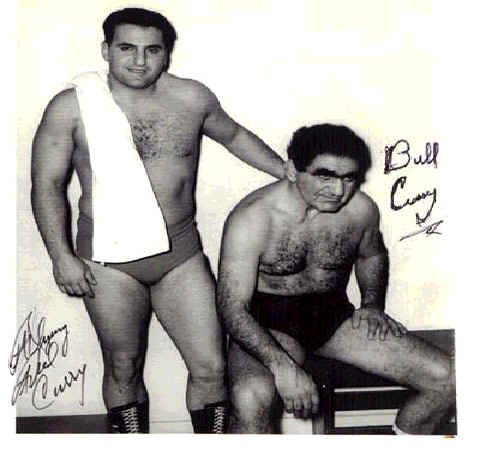 A father and son that each gave The Sheik some major battles .Wild Bull had been a cop in Hartford, CT but got kicked off the force for excessive brutality. Bull was the prototype for the antihero face/heels of today. He'd brawl with anyone they matched him against. It didn't matter if his opponent was a face or a heel. Flying Fred was a star both as a singles and tag team partner. His big move was the drop kick and he'd throw a series of them and the Cobo crowd would count in unison. More than once I witness 20 consecutive drop kicks from Fred. He held the World Tag Titles more than once. Fred use to team a lot with Bobo Brazil but his most spectacular partner was 600 lb Haystacks Calhoun. Always, during some point of the match, Fred would climb onto "Stack's" shoulders and dive of his partner onto one their opponents. 1-2-3 and it was a pin. lark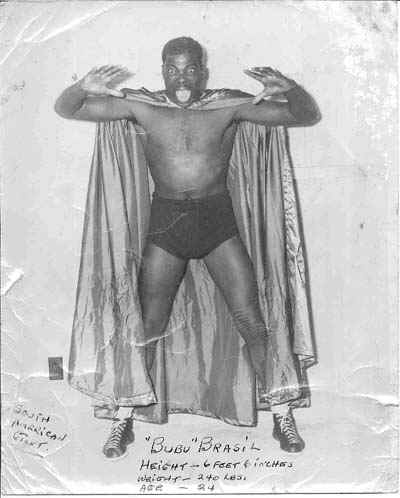 1947...I think Bobo was 24 at the time. He was getting a big push and training from an old wrestler turned promoter named Jumping Joe Salvoldi. Joe was promoting on the West side of Michigan and Houston Harris morphed into the South American giant Bu Bu Brasil and soon into Bobo Brazil. The rest is history. Bobo is so highly thought of in Benton Harbor that they named the community center after him. lark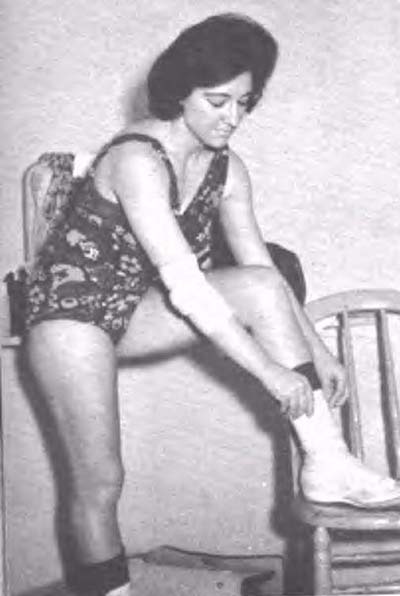 Lucille Dupree booting up. She was a French Canadian fireball with jet black hair and "drawn on" eyebrows. Her biggest opponent at Cobo in the 1970s was Tanya West- a ruff tuff, biker chick sort. Lucille teamed in the 1st inter-gender tag match with herself and Lou "Man of 1001 Holds" Klein against Tanya West and Jesse 'The Bull" Ortega way back in 1971. The men had to tag in when a man was in the ring and the gals were allowed to only wrestle each other only the gals, so it was a bit less "intergendery" than we are use to in the "anything goes" days. (The faces won) Lucille often wore a white tuxedo jacket with tales jacket and matching top hat into the ring. I'm still looking for a picture of it. lark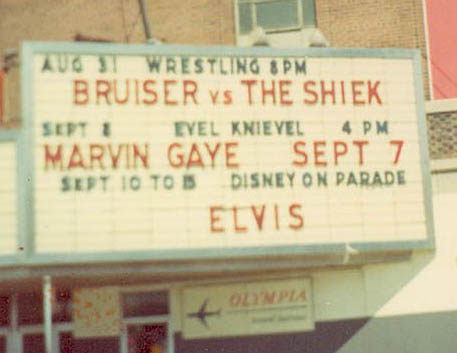 This is a snapshot I took outside of the Olympia when in Sept 1974 The Sheik and the Bruiser met for the 1st time since 1963. Interesting to note the other acts coming to the venue- Sheik and Dick are right up there with Superstars like Elvis and Marvin Gaye . It was a wild night and those 2 really rocked the packed arena. There was a full scale riot after the ref, who'd gotten bloodied up trying to retain order, called it a double dq. My wife and I sat in the front row and debris and bodies were flying all over. I remember, Terry Sullivan, the ring announcer getting knocked out with a full can of Stroh's, thrown by an unruly fan. lark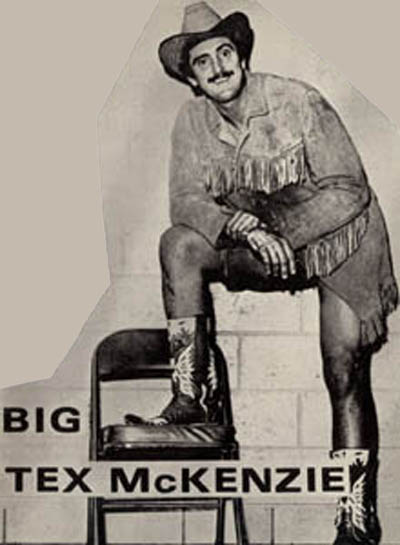 Tex McKenzie was the Big Man from the Texas, Alamo. He was the first wrestler I ever saw with cowboy boot style wrestling footwear. Tex did some great color commentating along with Lord Layton and his enthusiasm and love of the sport really came through when he spoke. He had a creative series of "gimmick" bouts with The Sheik, including a Chair Shot match (Chairs were allowed as legal weapons-Balls Mahoney would've loved it) and a Hog Tie match, where to win you had to rope and tie your opponent. Tex's finisher was the Bulldog Headlock and his height and long legs added an extra measure of devastation when he planted his opponents face into the mat. lark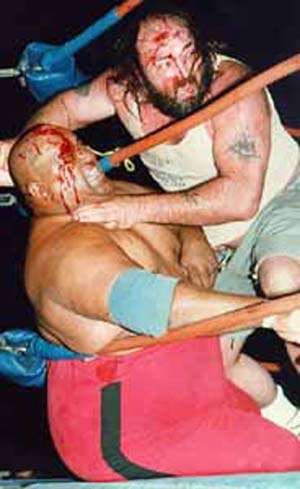 From the Sudan (by way of Windsor, Ontario) Abdullah the Butcher is seen here taking on another Big TIme Wrestling heel-Killer Tim Brooks. Both were despised by the fans and Detroit pioneered the "heel versus heel" (Cheer who you hate the least) bouts years before they became widespread in the business. Sheik-Abby matches were always a welcome addition to any card. Brooks was the Uncle of a Famous Wrestler named Farmer Jones, who often came to the ring with a pig. Jones was a founding father of the "Hillbilly wrestler" gimmick. lark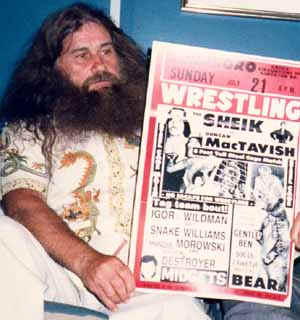 Dave McKigney was the Bearman and also billed as the Wildman. He had a trained bear that'd they bring around once a year or so and some heel (my favorite opponent for the bear was Bobby Heenan) would try to pin him. Nobody beat the bear. NOBODY! Dave wrestled with a partner, Willie Farkas, The Wolfman and they were quite a dynamic team. Not many holds, but a lot of action and always plentyy of blood. In the Summers, McKigney promoted wrestling shows throughout Ontario and as you can see from the poster, he brought in the Big Time Stars like Igor and The Sheik. Dave had a daughter, Raquel DuBois, who worked her way through college by doing wrestling dates and saving her money all summer. She was and still is a beautiful gal, but hasn't wrestled in years. Dave's life was marred by tragedy as his bear killed his girlfriend in the mid 1980s. In 1988 Dave was killed along with Adrian Adonis and one of the Kelly Twins as they swerved to avoid hitting a Moose while driving back from a wrestling show they'd worked on. Like so many stars of yesterday and today, The Bearman lived, breathed and ultimately died pursuing his passion-Big Time Wrestling. lark
1963 was the year and Alex Karras was suspended from the NFL for gambling on games. In an attempt to make some loot while he sat out his suspension Karras agreed to take on Detroit's second string "wildman", Dick the Bruiser. I think we all know who the 1st string was-The Sheik as he proved 10 years later when he beat Bruiser silly in a series of 4 matches. A few nights before the showdown, Bruiser showed up at the Lindell AC, a club that Karras was part owner of at the time. Well, Karras made the mistake of thinking Dick was just there for a little good natured publicity, but Bruiser was on a mission and it wasn't going to be pretty. This picture shows Dick the morning after the bar clearing brawl at his arraignment. Seems like somebody called the Detroit Police to put an end to the donnybrook, and the "Coppers" got a lesson in just how "fake" wrestling is. I don't have the press clipping anymore, but I believe 10 police showed up and Bruiser redefined the meaning of "totally out of control" as he did some serious damage to a few of Detroit's finest before they took him away in handcuffs.
Oh, and Karras got his butt kicked in the ring by Bruiser, as we knew he would, just a few days later. The interest in this showdown was so big that the promoters had to have the card at Tiger Stadium. lark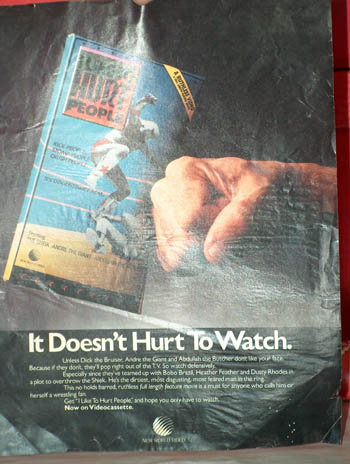 Sorry about the glare......This is noteworthy. When the movie came out on Home Video this was a full page full color ad in Billboard Magazine. There were actually 2 in the series, but I've misplaced the other. Billboard is the number 1 entertainment industry magazine in the world. The folks at New World Pictures knew of The Sheik's box office potential and were not afraid to spend some loot to advertise..